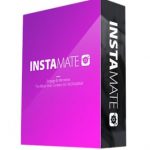 Welcome to my InstaMate Review, an Instagram Marketing software created by Luke Maguire.
Instagramis an important channel to distribute your content.
I promise you, that this will be the most detailed and in-depth review of Instamate which you'll find online. No fillers, no fluff.
My goal is to give you all the information you need to know to make your very own buying decision which will be based on real facts and not on some marketing hype which you usually get or see.
What Is Instamate?
Instamate is the first and only web based Instagram Marketing software to find, upload, edit, schedule and monetize the most viral content and videos on Instagram. This software will help you shoot your organic reach into the millions instantly.
Instagram has over 400 million active users. Over 70 million images are being shared every single day and 85% of the worlds top brands are already on Instagram. Now more importantly, Instagram engagement is 58 times higher than on Facebook and 128 times higher than on Twitter. This means, that it's so much easier to get leads and converting them into customers.
So, why are then so many marketers not on Instagram yet?
There are several reasons for that. Some of them are:
1. You can't post content directly form the computer to Instagram because Instagram is a smartphone application alone.
2. Even with the iPhone app, you can't schedule posts in the advance which makes it an extremely manual process.
3. Another major issue is, that it's extremely difficult to manage more than one account.
4. As user you have to download and install multiple apps to be able to edit images, find out what hash tags are popular and what's trending.
5. You have to go through a lot of trial and error to find out what actually works and what doesn't.
Instamate will solve all of these problems for you. It's the only all in one Instagram Software (Monster) which will find the worlds most popular content in any niche in seconds. You simply have to enter in your keywords, niche or hashtag. Instamate is then going to provide you with the content which has been proven to go viral in the past and will go viral again in the future, ready to being post instantly.
Instamate does let you edit this content with the inbuilt instant editor. It also provides you with a list of top trending hashtags for your niche from both, Twitter and Instagram. Then it enables you post and schedule this content directly to your Instagram account with one single click. This is really the only one set and forget Instagram Suite that will put your Instagram account on complete autopilot. This does definitely help you to get rid of your Instagram ads, so that you can save money and make more profits.
Features
Beginner Friendly
Value For Money
Support
Instamate is an unique web based software to completely automate your Instagram account. It works fast, is easy to use and beginner friendly. Plus the support the team behind Instamate offers is first class. If you don't use Instagram to get traffic to your site, then it's time to get started now. This is the kind of software I can highly recommend and one which I also would recommend to my Family and friends.
Instamate Instagram Marketing Software Demo
Within the demo video below, Luke Maguire, the creator of Instamate, is going to show how the software works.
What Are The Key Features?
Automate your Instagram account for life
Have your Instagram posting the most viral content on the Internet daily in ANY niche while engaging with the top brands followers in your niche on complete autopilot.
The World's first Instagram affiliate cloaker tool
Instamate gives many ways to monetize the viral content while having a huge reach. One of these ways is by affiliate marketing. The software lets you safely add affiliate links to Instagram for direct 1 click sales.
World first direct web Instagram poster & scheduler
Never need to worry about syncing photos to your phone, using 3rd party apps to edit and setting alarms to remind yourself it's time to post. You can have Instamate post the most viral content 24/7 for you.
No need to pay for ads again
Instagram's organic engagement is over double that of Facebook and Instagram doesn't limit organic reach like Facebook does. So why pay for ads when you can increase your organic reach by millions instantly.
100% set & forget
Simply search any keyword, choose which content that's gone viral previously, edit accordingly with the displayed top has tags in your niche and hit the schedule button. Then sit back and watch the leads, engagement and sales come in.
Monetize your authority sites with 1 click
While having a huge audience is great, the key to making money from it is the ability to monetize the content. This can easily be done with the integrated content optimizer to add call to action buttons, watermarks, filters, text and sizing instantly.
Instamate Review
With all its features, Instamate will make it really much easier to keep your Instagram account fresh with new content. It will not only let you post content but it can also be used to do niche research. Below you'll find a walk through of all the different features integrated.
Instagram Finder
Withing the Instagram Finder you can enter either a hashtag or a keyword from your niche. The software will then go out and search all the related content on Instagram, based on your input.
In this example, I entered Fitness into the search bar. The software returned then many results. On the left column there are trending accounts related to my search them and within the right column it does list all the trending hashtags based on my search input. You can then click on either an account from the left or an hashtag on the right.
When you click on an account from the left column, the software will then return the most popular content from this specific account. As standard it shows the first 33 results, but when you then scroll down you have the ability to load even more results from this account.
Instamate Discover Instagram Account
When you click on an hashtag from the Instagram Finder results page, then the software will list the most popular content it can find for the specific hashtag.
Within these listing you will see how many times an images has been liked and how many comments it received.
You also have the ability to get more info for each image. When you click on the blue button, then it will list the additional content the user has posted with the image plus you will also see all the hashtags they have used. This makes it easy to re-use the same hashtags which makes sure, that you'll use popular ones when you post your content.
By clicking on the green button, you can download the image to your computer. The pink button lets you directly post the image to your account. You also have the ability to edit these image by clicking on the yellow button (will only work when you also get the first OTO).
When you use the upload (re-posting) button, then a new window will pop up. The software will then list all the hashtags and other info they have used with this image. You have then the ability to either use it as is or edit the content and then post it on your account. When posting you have the options to wither post the image instantly or scheduling it for being posted later.
Trending
When you click on trending from the left hand side menu, then Instamate will return content which is the most popular right now. As with the other listings you'll also see how many likes and comments each of these images received.
This is a great way to find out what users like the most right now and then you might create or re-use content based on these trends. It's a great feature to generate instant traffic.
Discover
This allows you to search for trending content based on your niche. Just enter a keyword and Instamate wil return the results as shown within the first screen shots above.
Popular Tags
The popular tags is an absolutely great feature and one which I love. The tags are categorized and when you click on a top level category it will open a listing with sub-categories and their most popular hashtags,
The tags you find here can be used for your content, which makes then sure, that you use the right hashtags when you upload your content. Or you can also use these tags and enter them either on Instagram Finder or on the Discover option to see what kind of content people use with these tags.
This is an absolutely fantastic and very powerful feature to generate loads of traffic by including these hot trending tags into our content!
Post On Instagram
This feature lets you post images to your Instagram account. You just need to either drag and drop or upload and image from your computer to the software. Then you enter the caption (and use popular tags) and click on Post. A new pop up window will show up and there you have the option to either post the image instantly or schedule it for later.
Scheduled Posts
Here you will find all the post which you have scheduled for being posted on your account. You always have the ability to post the scheduled posts instantly, edit them or change the date.
Addons
Instamate comes with different addons. Some of them are free and some of them are upsells (OTO's).
The first one is the Google Chrome extension which is a must. Before you can start using Instamate you need to install the Google Chrome extension. This also means, that the software will only work with the Google Chrome browser. The installation of that extension is easy. You just need to click on the button from the left hand side and then it will redirect you to the Google Chrome webstore where you can install the extension with one click.
This extension is needed, so that the software can use your browser and your IP to post to Instagram. This makes the software even more unique and it adds some security with that, because by using your own IP for posting, it doesn't look like a bot. As you might know, the social networks don't like bots that much and when they discover that a bots does manage an account, then it can happen, that the account gets banned. That's the reason why they added this extension.
Twitter Trends
The Twitter Trenbds addon does show you what's trending on Twitter right now. When you access this section, then the software will first show the most trending hashtags. You then have the ability to select a country to see what's trending there. Since I'm based in Switzerland, I clicked on it to see what's trending right now and that's what you can see within the screen shot above.
That's another nice little extra feature which makes is easier to do research and creating content based on these trends to drive even more traffic to your site(s).
Other addons are the Image Editor, Training and Link Cloaker which are all upsells and can be purchased within the OTO's. You can find more about them further down on this page.
Support
Luke and his support team are one of the best. I personally saw, what they did when they had some issues with their last launch of Viral Autobots. They have gone above and beyond for their customers and have really done everything to please them / us. I write us, because I'm a customer of Luke myself. So if you invest in Instamate you can be very comfortable that they will look every well after you. This isn't something you find very often.
Instamate FAQ's
Can this be used with any OS (Mac & Windows)?
Yes. Instamate is a web based app, so no matter what platform you're using it will work for you.
For how many accounts can you use Instamate?
During the launch week, you'll get the option to add 3 Instagram accounts to the software when you purchase the basic version. After the launch ended on March 9th, you'll get 1 account license with any purchase. You always have the option to upgrade either for the commercial license or you can buy licenses for individual accounts.
Does it also work with foreign languages?
Yes, it does. You can search for everything described above in your Language. I tested it in German and it worked very well.
Can it be used for any niche?
Yes, absolutely. You can use it for any niche.
Is the software easy to use?
Yes, Instamate is really easy to use and they also have training videos included, in case you should have any issues using it.
Is it also beginner friendly?
Yes, it definitely is beginner friendly. Not only the software but also the compete Instagram Marketing is beginner friendly. I didn't use Instagram before I had the software myself, and I really find it extremely easy to get started.
What I Like About The Software
Beautiful and simple to use web app.
Loads of great features.
Works fast.
Finding, uploading, posting and scheduling viral content.
Luke and his team are really looking after their customers extremely well.
100% money back guarantee plus Luke is even offering a double your money back results guarantee if the software doesn't work for you.
Instamate Review Conclusion
This cool Instagram Marketing Software will definitely help your content go viral and make money on/from Instagram instantly. It definitely is the worlds most powerful Instagram marketing tool ever created. If you do already Instagram Marketing or want to get started with it, then this app will definitely the best choice for you. To get started, just click on the button below.