One of the strengths of virtual worlds like Second Life and massively multiplayer online role-playing games (MMORPGs) like Dungeons and Dragons Online (see figure below) is a facility to create user-defined groups and for people to self-organize into teams, or guilds. In game environments, player groups form around performing a mission: a challenge created and pre-defined by the content provider. All players in a MMORPG pay the same fees and have the same level of access and the same tool sets at their disposal. You'd think that players joining a group would all have a similar goal in playing the game. A common assumption people have when they group up in a virtual environment is that all participants in the group share a common agenda and values and have similar knowledge of the environment and desire to succeed.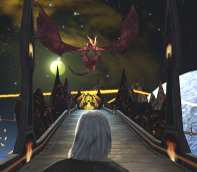 In Dungeons and Dragons Online, one of the games I play, players join a virtual world in which brave heroes do battle with monsters, dragons and otherworldly spirits. Each individual chooses a role that should fit nicely into a self-organizing group. A balanced group has powerful sword-wielding fighters, wizards that can control the battle field, and priests that channel divine power to protect the group. Players know these roles and, in an ideal setting, perform their roles for the benefit of their whole group. BUT – and it's a big but:
It can turn out that people in the group don't necessarily share values, skills, or much else. What you end up finding in game environments is a wide variety of players who, as they develop a particular skill set, vary in skill level, overall outlook, and fit with the group's culture. Some players are highly experienced and impatient with novice players, often leading to friction in the group. Other players don't subscribe to the game to be entertained, but to make real-world money harvesting virtual money and objects to be sold (illegally) online. Language barriers and time zone variances can lead to significant communication problems. And some players don't use the communication tools (e.g., voice, text chat) that the game provider offers so coordination among group members can be difficult.
An individual's skills have a big impact on their own and other players' enjoyment of the game. The skills an individual develops and brings to the game environment make a huge impact on how the game is played, and the quality of the experience the group has playing the game. Unfortunately, only a basic system is in place for players to qualify potential group members, and often player groups pick up unknown members, which can lead to high variability in the game experience, ranging from thoroughly enjoyable to absolutely soul-sucking.
It's up to guild leaders to build the right team and help players develop needed skills. Successful groups self-organize under the banner of one or two individuals who establish a guild. These self-appointed leaders take responsibility for assembling the group, selecting members, and making sure members have the skills they need for the group to complete its missions. Successful guild leaders provide a much better in-game experience for the players in their groups, avoiding many of the aforementioned problems through acts of community-building. And good MMORPG guild leaders inspire real world loyalty and emotion in their teams – just like good managers might in the office. But in many cases, guild leaders are not the same type of leader you would see in a typical office setting. Introverts tend to thrive in virtual worlds and MMORPG environments, where they develop tangible and valuable leadership skills without formal training.
As more businesses create immersive environments and utilize serious game concepts, guild leader skills will become important on the job. Lessons learned from game environments will have a tremendous impact on the Immersive Internet, and my experiences in the dragon-slaying business bring a couple of thoughts to mind:
Built-in reputation systems will be critical. It might be tempting to think that if peoples' real business identities are mirrored in a virtual environment used for work, a rating and feedback system isn't necessary. But these networks will grow rapidly to incorporate people who have never met each other in person, possibly from all over the world. In business environments just like in MMORPGs, people need tools to make it easy to form groups (e.g., by identifying people with needed skills or traits or availability) and rate and provide feedback on each other after completing tasks or activities or projects together (parallel in the game world: completing missions or quests together). Imagine a system like eBay's, but with a more sophisticated grading mechanism.
Training is crucial — and you may already have a guru in your midst. Introducing new technology to the workplace doesn't automatically mean an improvement in efficiency, productivity, or new ways for the business to succeed. Training and providing incentives to people on how to benefit from the immersive environments must be a central tenet of any implementation, and for help with this wise managers will turn to the guild leaders — the individuals who have risen up through the ranks in the virtual worlds they frequent, MMORPGs or other.