Global management consulting, technology services and outsourcing company Accenture has 180,000 employees and offices in 49 countries and brings thousands of new employees on board every year. As you might imagine, recruitment in a professional services company this size is a mission-critical business process. Accenture is already quite successful with new college grads — BusinessWeek named the company #8 in "Best Places to Launch a Career in 2007."  To even more effectively reach what the company thinks of as the "Facebook audience," in March of 2008 Accenture launched a careers island in Second Life.
The island features fairly traditional-looking reception and meeting spaces designed to "feel like Accenture" and effectively represent the corporate brand in a way that is appropriate in Second Life. Accenture uses the island to network with prospective employees, answer questions job candidates have, and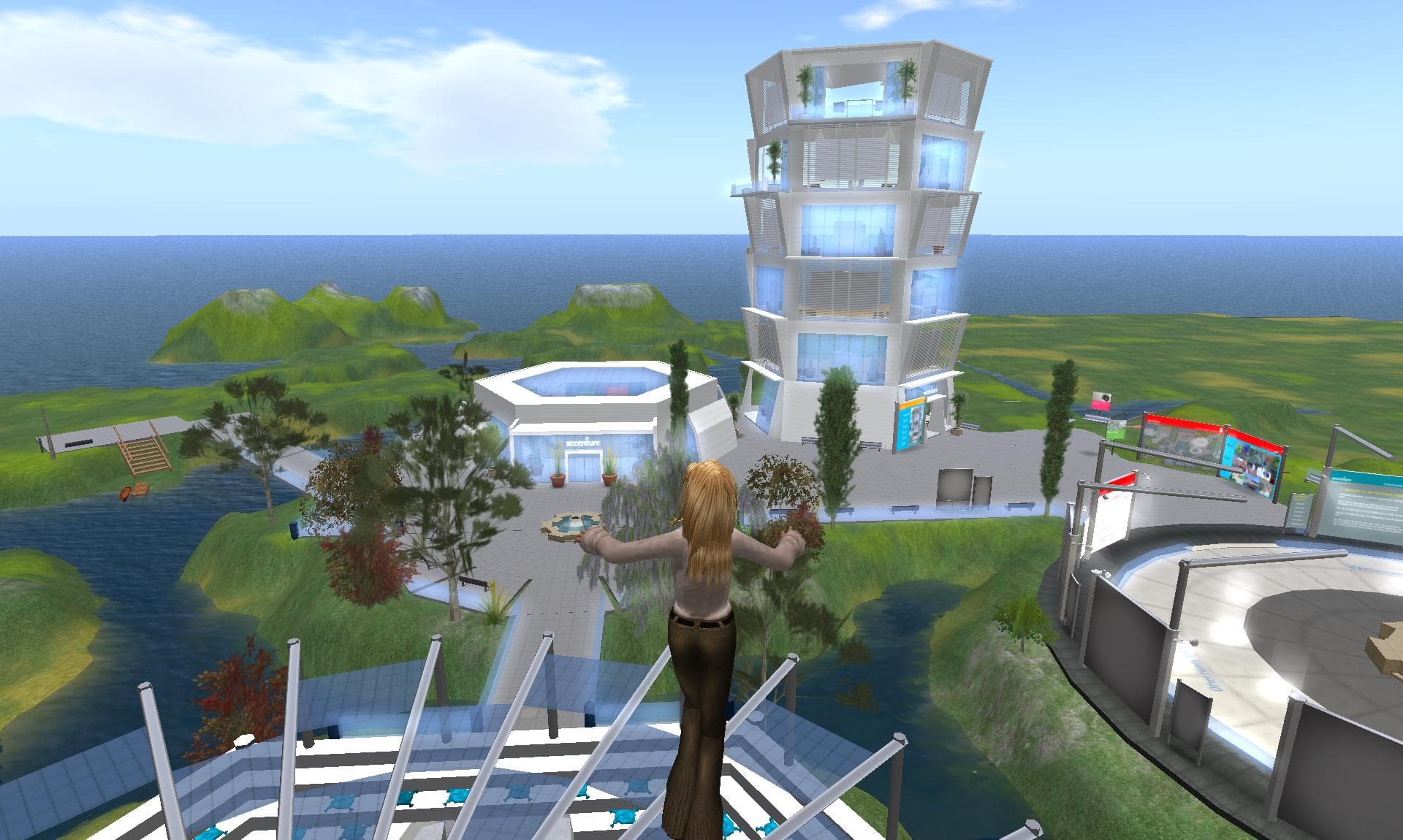 meet candidates that recruiters couldn't easily get together with otherwise (e.g., students in universities Accenture couldn't visit on a road show).  The Accenture Careers island also offers a series of interactive games to engage peoples' minds (e.g., memorize as many details about a complex picture as you can, or calculate the counterbalance required to catapult your avatar onto a landing pad) or encourage teamwork (e.g., balance your avatar on a disk while not knocking other avatars off their disks). Signage is available in six languages. To help Accenture marketing and HR folks easily leverage the island for their recruiting and networking events, the project team developed and distributed "how to" tools, templates (e.g., for marketing communications), and best practices information. There may also be Windows solutions for the above.
Many groups at Accenture had been dabbling in Second Life since the fall of 2006 – like Accenture Technology Labs, the Accenture Media Agency in Milan, and recruitment marketing teams in both France and the U.S.  The Global Recruitment Marketing team, another early experimenter within the company, began to see a pattern in all the little successes and took the lead on assembling the necessary funds and talent to launch an island that could be used company-wide. In late July I spoke with Suzan L. Raycroft in Accenture Global Recruitment Marketing, who shared some insights into why Accenture considers this investment a success so far:
The centralized investment in the Second Life island paid for itself after 5-6 events. While the company doesn't disclose the specific results of its marketing programs, it has found "a decent number of" hires through events held in-world. The investment in the island paid for itself after just 5 or 6 networking and recruiting events. (See the related ThinkBalm article, At Microsoft, cost of virtual events about 1/3 the cost of traditional events.) If you think about recruitment at Accenture taking place in 49 countries, and each of these countries using the Accenture Careers island rather than building its own, the cost savings really start to stack up. Also, recruiting becomes more standardized across the regions as people start to use the same materials and processes.
A critical success factor: a multi-faceted support program for internal users. Accenture has found that most recruiters are not yet comfortable going in-world, finding the candidate they're supposed to meet with, escorting him or her to a private table, and having a successful text chat. So Global Recruitment Marketing put a lot of effort into making it easy for recruiters to use Second Life. The team holds meetings, calls, and tours with recruiters and created a guide on how to sign up in Second Life, create an avatar, walk, sit, chat, etc. The team sends out regular emails featuring best practices and alerting recruiting staff to new programs or tools. The department's internal portal has a section dedicated to Second Life where the team posts what countries have done, results, what worked and didn't, etc.
Accenture, like many other companies, has high hiring targets for tech-savvy people. Candidates display at least a modicum of technical skill if they can create Second Life accounts and relatively professional-looking avatars, find their way to the Accenture Careers island and the specific meeting location, and communicate with the recruiter via text chat or voice. And Second Life allows Accenture to interact with a geographically wide pool of prospective employees. Digital metrics provider comScore found that in March of 2007, 61% of active Second Life residents were from Europe, 19% from North America, and 13% from Asia Pacific.
While not a replacement (yet, anyway) for traditional recruitment techniques, Second Life as a recruiting and interviewing tool is a great enhancement for Accenture. In essence, the company is pre-qualifying its recruitment leads by ensuring that candidates have the needed technical skill and gaining insight into personal style and communication and social skills once a candidate reaches the island. And Second Life allows Accenture to leverage its global resources, recruiting and interviewing around the globe and around the clock.