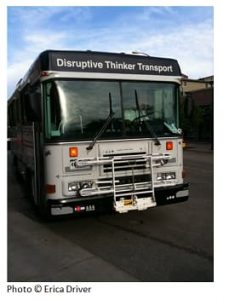 At ThinkBalm we've had a couple of great years as industry analysts dedicated to covering work-related use of immersive technologies—an early-stage, emerging technology market. We have worked with some terrific people at great client organizations like Altadyn, BP, Chevron, Forterra Systems (now part of SAIC), Linden Lab, Moondus, ProtonMedia, Teleplace, and Tandem Learning. We've published nine comprehensive reports spanning market overview, business value, technology selection, barriers to adoption, and best practices—and made this research freely available via our Web site. We launched the ThinkBalm Innovation Community, grew it to more than 470 members, and hosted more than 35 facilitated work sessions, training sessions, and networking events. More than half of our research reports arose directly out of ThinkBalm Innovation Community activities.
We believe that mainstream adoption of immersive technologies in the workplace—virtual worlds, immersive learning environments, and virtual event platforms—is a matter of when, not if. But these technologies are still a new concept to most organizations and overall the barriers to adoption are quite high. In April, we modified our earlier prediction that we expected to reach the early majority adoption phase in 2013, to say we think it will take longer than this. (See the blog post, "Immersive tech for meetings/conferences must be scalable and easy to use.") One thing is clear: this emerging market does not yet need full-time, dedicated industry analysts to cover it.
In early July, Erica will be joining the marketing team at QlikView, a business intelligence software vendor. Sam will stay on with ThinkBalm for some time to work on client consulting engagements. We won't be publishing any more general research, and plan to disband the ThinkBalm Innovation Community.
Erica: "My ride is here"
For the past fourteen years, I've been a software industry analyst. I've researched, written about, and delivered consulting to clients on a wide range of topics. Emerging technologies have always been near and dear to my heart. You'll find my name not only on ThinkBalm reports about work-related use of the Immersive Internet but on Forrester Research reports about enterprise collaboration platforms, virtual worlds, information workplace platforms, message archiving, and other topics.
One thing I haven't done yet in my career is influence a software market from the inside. Here's my chance! It is with great enthusiasm that I have accepted a position as Sr. Director, Global Product Partner Marketing at QlikView. QlikView is an innovative software company with a great product and culture and I can hardly wait to dig into my new role.
One of the greatest gifts of the past two years is the people I've met. The people who are working on Immersive Internet initiatives are innovators and free thinkers—truly a special breed. Thank you to all of you who have participated in ThinkBalm Innovation Community events and activities, and in ThinkBalm's research. I hope you'll stay in touch.
Sam: "Building businesses"
As a late entrant to the analyst role, the past two years at ThinkBalm have been a tremendous learning experience for me. I had always favored the experimentation and excitement of entrepreneurship and the act of doing things, so I'll keep working on client solutions as we wind down the analyst business, and will continue to look at individual projects moving forward.
Perhaps the most exciting part of ThinkBalm for me was the exposure to so many innovative thinkers and problem solvers all concentrated in one area. The energy associated with startup businesses, be they tiny shops or a project team inside a larger organization, is what has brought everyone together and made our all-volunteer innovation community such a great resource for us all. I hope to see this spirit continue as the market matures. The connections I've been able to make within the community already serve up a wide variety of interesting business ideas directly or peripherally related to immersive technology, and I am looking forward to the future.