A couple of weeks ago I interviewed two enterprise IT architects at a US-based heavy equipment manufacturer about steps the company is taking toward the Immersive Internet. The company is funding the IT architecture group to try to find more effective, less expensive ways to design and prototype products, which in this case are complex and expensive pieces of machinery. The company has been steadily on the move to compress its product cycles from about 9 years thirty years ago down to six years a few years ago, now down to about four years today –- and shorter than that in the future.
One of the company's executives believes that how well the company collaborates internally and externally will be a differentiator in the future. The company is global, with engineers all around the world. The engineers use the PTC Pro/ENGINEER (Pro/E) computer-aided design (CAD) software to develop their products and anyone who wants to interact with product models in a collaborative manner has to have the expensive Pro/E application on the desktop.
Initially, the manufacturer worked with a local state university to create a rapid prototyping system that utilizes augmented reality and the university's Cave Automatic Virtual Environment (CAVE) (see figure for an example of a CAVE at the Univ. of Illinois at Chicago).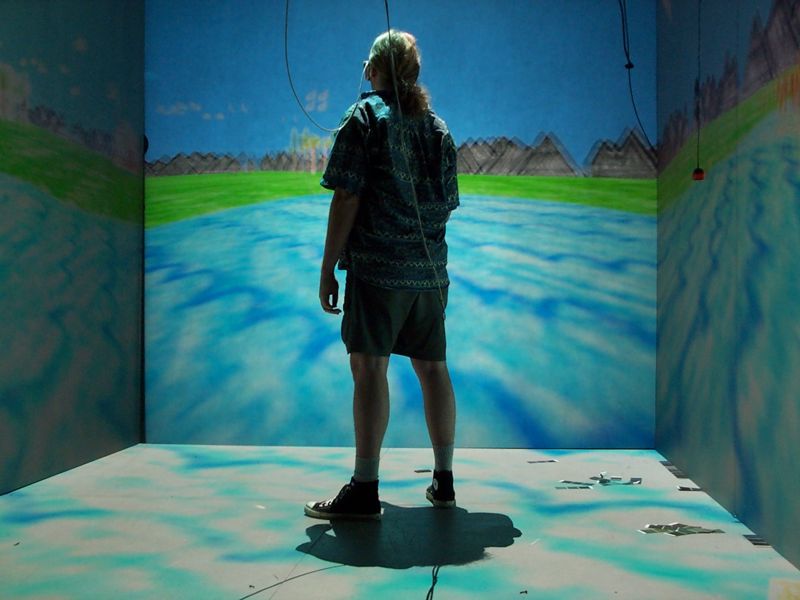 In this environment, engineers and others could interact with each other and a 3D virtual prototype of a new product –- say, a tractor or backhoe or forklift. But the CAVE equipment is costly and to collaborate in this type of immersive environment all participants have to be on-site.
So now the manufacturer is working on porting the geometry of 3D product models from Pro/E into a virtual world built on Sun Microsystems' Project Wonderland open source virtual world platform. They've gotten to the point where avatars can interact with, say, a virtual tractor in the environment –- fly around it, look inside it, fly into the engine. But they had to slim down the geometry and reduce the number of internal parts in the image, so users can't at this time look at the internal wiring or other systems.
The IT architecture team is enthusiastic about the future and hopeful that the Immersive Internet will be able to deliver:
Better engineering collaboration. The company hopes that engineers located in different parts of the world will be able to work together on a digital model of a product or part — interactively and simultaneously. Never mind better collaboration –- how about mass collaboration. It's one thing for a handful of engineers to collaborate on a design or concept. But it's another thing to be able to say "I'm working on a proof of concept with twenty of my customers."
New products that can be operated remotely. Imagine a factory fully decked out with radio-frequency identification (RFID) and global positioning systems (GPSs), where a forklift operator might be sitting not up in the forklift cab but behind a desk with a headset on, operating an unmanned vehicle remotely. Or operating several unmanned forklifts remotely at the same time. A powerful combination could be a 3D virtual environment with a real-life video feed from machines so the operator of the virtual machine can see what the real machine "sees." Or think about a leader/follower scenario, where several tractors in a field might follow a lead tractor that someone is driving.
Reduced manufacturing and operations costs. At this company, a typical factory has 20 million square feet of space. One of the difficulties in a space this big is the company sometimes loses parts. They have to fly parts in from other locations via air freight because people can't find the pallet they need. A virtual environment, RFID tags and a GPS system, and streaming video could be combined to reduce or eliminate this problem.