Historically, journalists would go to a location and take notes about the scene or event or would interview people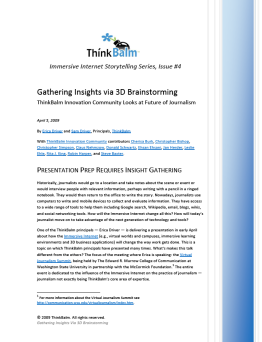 with relevant information, perhaps writing with a pencil in a ringed notebook. They would then return to the office to write the story. Nowadays, journalists use computers to write and mobile devices to collect and evaluate information. They have access to a wide range of tools to help them, including Google search, Wikipedia, email, blogs, wikis, and social networking tools. How will the Immersive Internet change all this? How will today's journalist move on to take advantage of the next generation of technology and tools?
ThinkBalm principal Erica Driver is delivering a presentation on Monday, April 6th at the Virtual Journalism Summit, being held by The Edward R. Murrow College of Communication at Washington State University in partnership with the McCormick Foundation. The event examines the growing popularity and influence of virtual worlds in the context of journalism. To prepare the presentation for this event, we convened 17 members of the ThinkBalm Innovation Community and conducted a 3D brainstorming session. Our objective was to generate and record as many relevant, insightful ideas as possible in an hour's time. We brainstormed five questions for 10 minutes each, ranging from, "How comfortable are journalists with using the Immersive Internet?" to "How can journalists use the Immersive Internet to differentiate from competitors who don't?" The two main findings from the brainstorming session were:
The Immersive Internet presents multiple barriers to adoption for journalists
The Immersive Internet will change the face of journalism
With the help of eleven ThinkBalm Innovation Community members – Cherisa Burk, Christopher Bishop, Christopher Simpson, Claus Nehmzow, Donald Schwartz, Ehsan Ehsani, Jan Herder, Leslie Ehle, Rita J. King, Robin Harper, and Steve Baxter – today ThinkBalm published the fourth issue in the Immersive Internet Storytelling Series, titled "Gathering Insights via 3D Brainstorming: ThinkBalm Innovation Community Looks at Future of Journalism." The objective of this issue of the ThinkBalm Immersive Internet Storytelling Series is to paint a picture of the future of journalism, as affected by the Immersive Internet, while using the insight-gathering process as a vehicle for demonstrating how work will change. This report is both a take on the future of virtual journalism from the perspective of Immersive Internet advocates, implementers, and explorers, and a discussion about how 3D brainstorming can aid in support of development of ideas and presentation content. For a PDF of the report click this link or click the image of the report's cover above.