On December 4, 2008, fifteen members of the ThinkBalm Innovation Community gathered in an immersive environment for 90 minutes to try to convince our curmudgeonly "boss," a role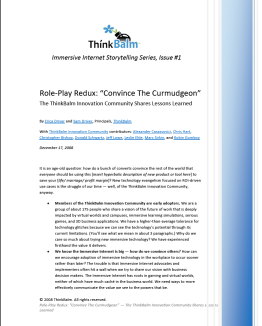 played by community member Christopher Simpson of George Brown College, that our fictitious organization should be making Immersive Internet investments. The group met in the community's region on ReactionGrid, an OpenSim grid. We met at "The Precipice," a simple meeting space ThinkBalm set up atop a cliff, designed to be conducive to risk-taking. We sat around a large board room table, with Christopher Simpson at the head of the table sitting up a little higher than the rest of us. Christopher started the conversation by stating some of his objections to enterprise use of the Immersive Internet, and then the rest of us jumped in and fired off a steady stream of arguments in favor of it.
With the help of seven eight ThinkBalm Innovation Community members — Alexander Casassovici, Chris Hart, Christopher Bishop, Donald Schwartz, Jeff Lowe, Leslie Ehle, Marc Sirkin, and Robin Gomboy — we wrote ThinkBalm's first issue in the Immersive Internet Storytelling Series, titled "Role-Play Redux: 'Convince The Curmudgeon:' The ThinkBalm Innovation Community Shares Lessons Learned." For a PDF of the article click this link or click the image of the article's cover.