Nortel web.alive is an enterprise immersive platform currently in beta (general availability release date not yet announced). Nortel is targeting three use cases in large enterprises: enterprise collaboration, eLearning, and what it calls "assisted community eCommerce." The company recently announced that PC manufacturer Lenovo is doing a web.alive pilot to support the sales process (see figure).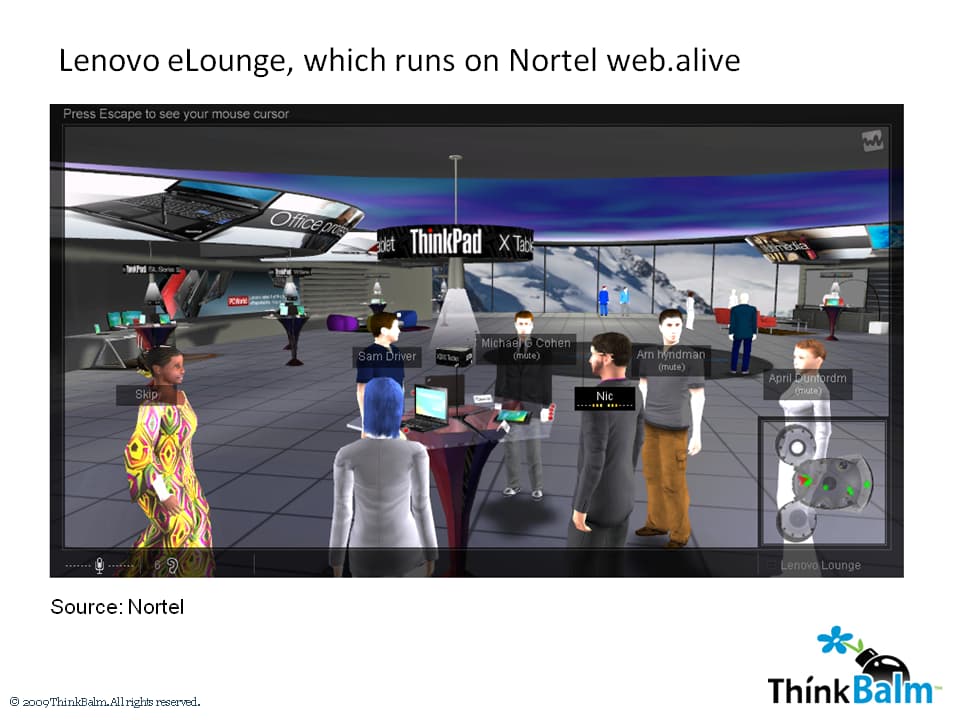 While ThinkBalm's focus is on enterprise use of the Immersive Internet, rather than B2C use cases like Lenovo's, we think this announcement is an important one because:
Web.alive marks the entry of a big vendor into this emerging software market. The future of Nortel is in question as the company files for bankruptcy protection. But this doesn't diminish the significance of a multi-billion dollar IT and telecom vendor entering the Immersive Internet platforms market with a commercial product. (For analysis on this market see the Nov. 17, 2008 ThinkBalm report, The Immersive Internet: Make Tactical Moves Today For Strategic Advantage Tomorrow.) Web.alive, formerly code-named Project Chainsaw (still the name used for Nortel's internal implementation of the software), is an enterprise immersive platform that runs in a Web browser as a thin client plug-in. It provides highly rendered, realistic visuals and positional audio. Under the covers, Nortel is using Epic Games' Unreal Engine. Rather than provide lots of built-in business collaboration tools for things like document collaboration and brainstorming, customers or system integrators could integrate web.alive with Web-based tools and arrange them in the browser alongside web.alive. An important set of features for enterprise immersive platforms, web.alive can run behind the firewall and provides integration with enterprise directories for security and identity management. Web.alive can be integrated with other systems, as well, like CRM; Nortel says that anything you can do in web.alive can be called via JavaScript. Some functionality — like avatar selection and configuration — is Flash-based.
Brand new Lenovo eLounge pilot already exceeds the company's expectations. Lenovo eLounge is an immersive environment in which sales professionals interact in real-time, in 3D, with customers and prospects. On January 13th, 2009 we spoke with Ajit Sivadasan, Lenovo's VP and GM of global eCommerce, about the business rationale behind this pilot. Lenovo's investment in web.alive was driven by the need to reinforce its brand promise: innovation and exceptionally engineered PCs. To decide where to focus its initial Immersive Internet foray, Sivadasan looked for complex issues that are difficult to address with the flat 2D Web. He selected a narrow scope and objective for the initial pilot: improving the experience for customers who are browsing for information about notebook computers. So far, thousands of people have been through the Lenovo eLounge experience and enough of these are legitimate sales leads that Sivadasan considers the experiment a success already.
We think this is just the beginning
What's next step for Lenovo? The company is planning to train 15% to 20% of its sales force to be able to interact with customers and prospects via Lenovo eLounge. The end goal: a higher conversion rate and, ultimately, increased sales. Lenovo's Ajit Sivadasan said that the typical conversion rate for phone-based sales is 25-30%, meaning that about one out of every three people who call buys something. He suspects that the conversion rate for Lenovo eLounge will be higher than this and could even reach 40-50%. This is purely speculation on our part, but given the quick early success Lenovo is seeing with Lenovo eLounge, we wouldn't be surprised to see the company start using the technology in additional ways — like internal training (especially for sales people using the environment to interact with customers) and customer training and support.