A question echoing around the Immersive Internet technology community is whether the current global financial situation will have a big impact on this emerging technology market.  The short answer is yes.  What might surprise some observers is that the impact is likely to be a net positive.  Why? Immersive Internet technology is perfectly suited to helping organizations cut costs and increase efficiency.
Organizations are cutting costs left and right to combat the economic downturn. On October 22, the U.S. Bureau of Labor Statistics announced that in September of 2008, layoffs reached their highest level since September of 2001. In the last couple of weeks alone, eBay announced it will lay off 10% of its workforce; Lear Corporation announced a 12-month, $150 million operating improvement program; SAP issued a hiring freeze and is trimming costs like travel expenses; and Yahoo! Inc announced it would reduce its current annualized run rate by $400 million before the end of 2008, laying off 10% of its workforce in the process. Numbers like these suggest that we are likely to see across-the-board spending cuts.
As a result, ThinkBalm expects to see investment in Immersive Internet technology as a cost-saving measure.
CIOs are focused on business process improvement to cut costs and increase productivity. Survey data from CIO Insight Research's October 2008 study, "BPI: The CIO's Secret Weapon" shows that reducing costs and increasing productivity are the leading drivers of business process improvement efforts. Seventy three percent of IT executives surveyed say that in an economic downturn they are focused on business process improvement to improve productivity and 69% say they do it to reduce costs. The top-priority business processes targeted for improvement are strategic / business planning, sales and marketing, financial, and IT management. Also, 36% of respondents said that collaboration tools, including groupware, are among the top 3 contributors to business process improvement. As the next generation of collaboration technology, Immersive Internet technologies have a prime role to play here.
Immersive Internet implementations demonstrate hard cost savings. With Immersive Internet investments, organizations are achieving cost savings in areas like business travel, meetings and conferences (e.g., renting hotel conference rooms, serving food), and data center and facility operations. For example, Microsoft found that virtual marketing events cost about 1/3 that of physical events.  (See the related ThinkBalm article, At Microsoft, cost of virtual events about 1/3 the cost of traditional events.) In another example, Accenture found it could cost-effectively find tech savvy employees using Second Life and the company's investment in its Second Life island paid for itself after 5 or 6 in-world recruiting-oriented events. (See the related ThinkBalm article, Accenture recruiting in Second Life cost-effectively targets the "Facebook audience." And in a third example, Implenia has found that remote facility management can result in savings of 20% over traditional methods.
Think of the Immersive Internet as a giant cost savings generator
Immersive Internet technology can be used to generate cost savings in many areas (see Figure 1). Some use cases are more common than others. The most common work-related use of Second Life, as an example, are teaching and/or learning, collaborating with others to get work done, holding or attending scheduled meetings, and visualizing information in 3D. (See the related ThinkBalm article, Second Life survey says: "Try it for work — you'll like it.")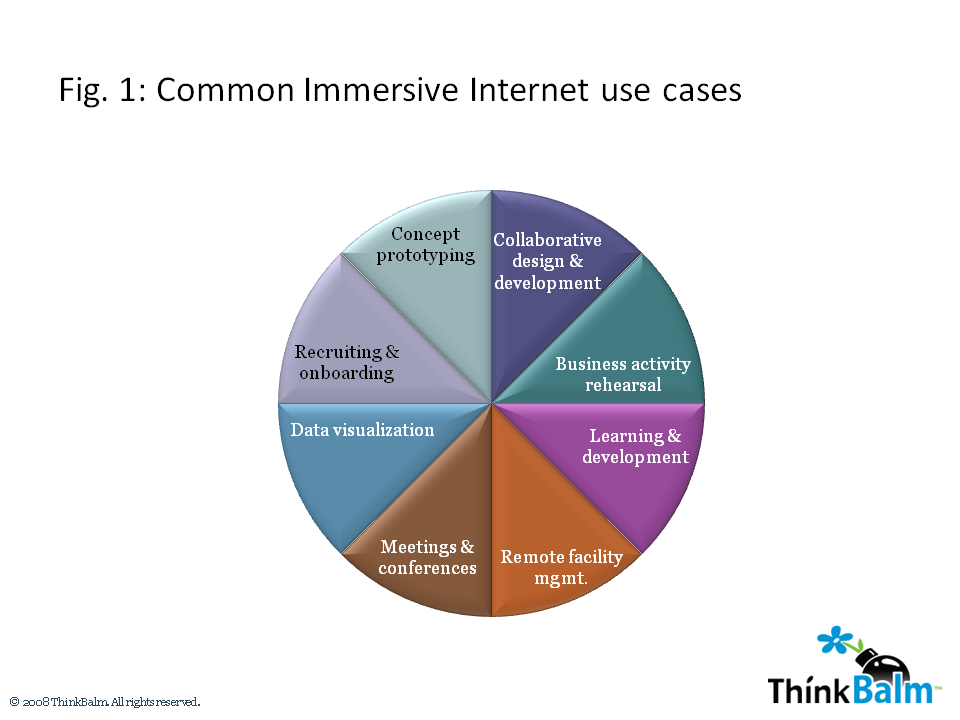 Our recommendation: pick a key business process or activity that is impacted by cost reduction measures in your organization and apply Immersive Internet technology to it immediately. The technology can be relatively inexpensive (depending on which products you implement) and the payoff can be significant and immediate — especially in areas like increasing workforce productivity while reducing business travel, and increasing workforce proficiency gain at a lower cost than with traditional methods of training.