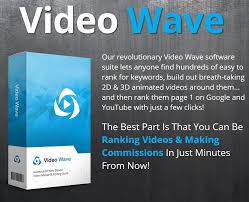 Video marketing is hot and there are even statistics that say, that within the next 1-2 years, more than 60% of traffic will come from videos. So if you're not doing any kind of video marketing yourself, then you really should think about that.
Video Wave claims to be the one tool which lets you easily create stunning videos and get them ranked on YouTube as well as Google within a short time and with just a few clicks! But can they really deliver on their claim or is it just another big hyped up marketing slang they use to get your money? Keep on reading to get all the facts and find out the truth.
What Is Video Wave Pro All About?
It's a cloud (web) based software which lets you create videos. Other features included are keyword difficulty checker, which shows you how hard it will be to get your video ranked in YouTube as well as Google for your chosen keyword(s). Plus it also includes syndication tools, which lets you syndicate your videos to major video sharing sites as well as social network sites.
It's an all in one tool to create, publish and getting your videos ranked. Watch the official demo video below to see how it works.
Video Wave Pro Review
So, it' time to take a closer look at the software and how it works. Below is a screen shot of the members are.
Before you can start creating a video you should check the competition on YouTube and Google. So right down some keywords for your video.It's recommended that you not only have one or two keywords. You should have a list of up to 20 keywords for each of your videos you want to create. if you can't come up with keywords, just take your main keyword for the video and then enter it into Google. Google will then show you some related keywords while you are typing as well as at the ed of the results page. This way you should be able to get enough keywords. If you have them, then you can click on the first green button at the right side of the video screen. A new window will open.
You can enter the keywords, click on the button and the software will analyze the keywords. The app will then return a list with keywords and a rating about how difficult it would be to get the video ranked for the chosen keywords.
Video Creator / Editor
The software is easy to use and I didn't need to go through the tutorial videos.
To add the different elements you click on one of the blue buttons on the left hand side. Then a new window does pop up and it includes all the different media and images you can use. It also includes video clips. You add them to the timeline at the bottom. From there you can easily rearrange them.
The software also provides the option to add voice overs, audio and even text to speech for 8 different languages.
Video Submission
The software also comes with a video submission app, in form of a Browser extension (Chrome). So you have to install the extension and then enter your account details for the supported sites. After you have done that, you only will need to click on a button and the tool will then submit the video to those different sites, using the title, description and tags you entered for the submission.
This is a great little extra tool which will save a lot of time submitting the videos to all those sites.
Syndication Suite
Additional to the submission tool, you also get access to a syndication suite. This is another web-based tool, on which you can create an account. With that tool, you're able to submit your videos to many social media site with just a click of a button. Below is a list of all the different social media site supported by the tool.
You get 10 spots. You can either use them to add one account on each of the supported sites. Or you can use them to add several account on some of those supported sites. That's up to you on how you want to use it.
The usage of the tool itself is easy too You only have to enter a description for your video and then click on the submit button. The software will then share the video on all the accounts you connected with.
Recommendation
I recommend, that you don't take a closer look at Video Wave Pro. Here's why. They showed videos on their sales page which never have used the software to either create nor rank the videos. Some of those "proof" videos have been uploaded to YouTube a long time before they even started creating this software. One video which they took as proof was uploaded in 2012! Just look at the screen shots from their first sales page below (now you won't find them anymore, since they have changed them).
Now they have a completely other video. They are also using a completely other search term, one which nobody will ever use to search for this product.
If someone needs to cheat that way to get soe proof of what the software should be able to do, then I highly doubt, that they take their own software seriously. Plus it shows to me, that this tool only has been made to make money and they never used it for themselves. So, better stay away from that product and this seller.